How HER-MINE Works: Curated for Women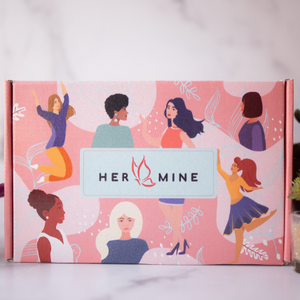 Step 1
Subscribe by the 10th of the month to receive the current month's HER-MINE Deluxe Box! Choose from our flexible 1 or 3-month plans to find what suits you best. Enjoy savings on multiple month subscriptions, with the freedom to pause or cancel anytime. Embrace the empowerment and connect with our community of strong women today!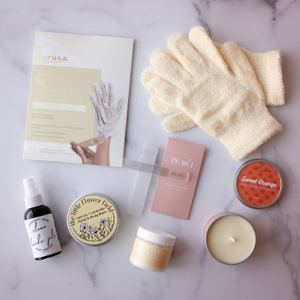 Step 2
At HER-MINE, we carefully curate full and deluxe sample size self-care treasures, primarily from inspiring women-owned companies. Our amazing products include soothing aromatherapy, natural/organic beauty essentials, and unique lifestyle items that celebrate the strength and creativity of women!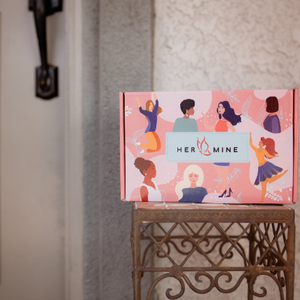 Step 3
Get ready to unbox indulgence right at your doorstep! We ship HER-MINE Boxes by the 15th of each month, delivering a pampering experience curated especially for strong, empowering women like you!
SUBSCRIBE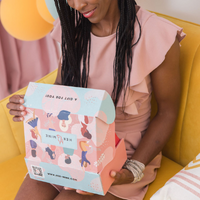 ABOUT THE HER-MINE BOX
We're a proud women-led, mission-driven company at HER-MINE, dedicated to empowering women in every way we can. Embrace self-love and support other women-owned businesses with us through our exclusive offerings.
Introducing the HER-MINE Deluxe Box: A unique selection of beauty products, candles, jewelry, journals, tea bags, snacks, and more, carefully curated by inspirational women striving to make positive change, one step at a time.
Why You Need the HER-MINE Deluxe Box:
You deserve to treat yourself!
Click now to start your journey with us and get your first box today.
What's Inside:
5-8 Full and Deluxe Sample Size Products
Discover women-made brands and products exclusively crafted for women like you
A Monthly Theme, Thoughtfully Curated
Enjoy Free Shipping within the USA
Flexible terms: No Contracts. No Commitments. Cancel Anytime.
Support women and join our sisterhood of subscribers by ordering your HER-MINE Deluxe Box today! Together, we grow stronger.
Buy Now
Let customers speak for us
Buy Previous Boxes
We don't always sell out, click on the picture to grab one before we do.