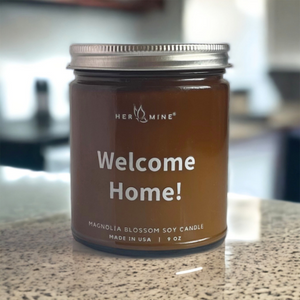 Illuminate your new abode with the warmth of a cozy embrace using our Welcome Home Magnolia Blossom Soy Candle. The comforting essence of home is captured in this candle, making it the perfect housewarming gift for new homeowners or a delightful treat for yourself.

Hand-poured and meticulously crafted from 100% natural, high-quality soy wax, this candle not only offers a cleaner, longer burn but also assures an eco-friendly choice for those conscious about the environment.

Let your senses dive into the intoxicating scent of blooming magnolias — a vibrant aroma that symbolizes the warm welcome of a newly owned home. Each flicker releases a soothing, floral bouquet that gently fills your space, enhancing the ambiance with a sense of tranquility and belonging.

Elegantly encased in a minimalist glass jar, the Welcome Home Magnolia Blossom Soy Candle merges with any interior style seamlessly, adding a dash of sophistication and charm to your living space. It also comes in a beautiful, recyclable box, ready for gifting right away.

Whether it's to add a touch of homey comfort to your new place or to present as a thoughtful gift to a friend stepping into a fresh chapter of home-ownership, this candle shines brightly in every sense.

Features:

Net Weight: 9 oz
Burn Time: Approx. 50 hours
Wax: 100% Natural Soy
Fragrance: Magnolia Blossom
Packaging: Recyclable Gift Box
Hand-poured in the USA
Light up the path to new beginnings and cherish the inviting aroma of magnolias. The Welcome Home Magnolia Blossom Soy Candle— because nothing says "welcome home" better than the glow of a comforting flame and a scent that feels just like home.