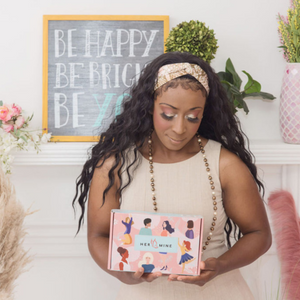 Experience Luxury Self-Care with the HER-MINE Surprise Box: A Perfect Gift for Any Occasion! Overflowing with past sold-out favorites and new, exclusive goodies, this surprise box is ideal for birthdays, anniversaries, or 'just because' moments. Indulge in the best of HER-MINE, featuring calming aromatherapy, decadent body scrubs, and more, all designed to make you feel royal.
Want a personalized touch? Customize your box with a special greeting card, and explore unique additions on our website. The HER-MINE Surprise Box isn't just a gift; it's an experience to melt away stress and embrace self-love.
MORE TO LOVE:
Handpicked Goodies for Relaxation and Destressing
Unique, Woman-Curated Self-Care Tools
Best Sellers from Previous Sold-Out Boxes
Includes a Customizable Greeting Card
Treat yourself or someone special to the HER-MINE Surprise Box today. You deserve this luxurious escape!
Excellent Gift
I received my first her-mine box as a gift several month ago; now, this is my go-to gift for friends! I appreciate this company and everything they stand for! Great products and customer service!
Hi Amanda,
Thank you so much for sharing your wonderful experience with the HER-MINE box! We're thrilled to hear it has become your go-to gift for friends. Your support means the world to us, and we're committed to continuing to provide great products and service. Looking forward to being a part of more special moments in your life!
Great gift
This is the 5th time I gifted a box to a friend. They have all loved it! They all feel like the box was made especially for them, love all the products and special little touches that go into putting the box together. They all have good things to say about it and it brings me so much joy to see them happy with their present. I would highly recommend, this is the perfect gift for all the ladies in your life.
2021 August Box😍
This was my 1st Box and I loved everything. Very personalized. The items chosen were of good quality. Especially the Vegan made "Leafy Green Moisturizer". It's Luxurious and the Scent is long-lasting!! Thank you Pam & Trudy for your thoughtfulness in curating such lovely boxes. Looking forward to ordering more in the future. ❤❤
Juanita, thank you very much for taking the time to write such a lovely review We are thrilled that you loved your box.
Surprises are the best!
I just wanted to truly thank Trudy ,Pam and their staff for sending me this absolutely beautiful surprise box! Their was a little bit of everything to put a smile on my face. Thank you all sooo much for your generosity and I wish you the best of luck on your journey!💙
My Auntie Was Thrilled!
I did not get to see the box, as it was a gift, but my aunt was very happy when she opened the box.