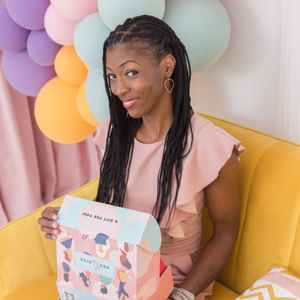 Looking for the perfect birthday present? Choose the HER-MINE Birthday Surprise Box, filled with spa-grade self-care products to uplift and relax. Handpicked from previously sold-out favorites, this all-in-one kit guarantees excitement.
What's Inside:
Unique, Best-Selling Self-Care Tools for Women
Latest and Greatest Products
Customizable Birthday Card
Luxurious HER-MINE Products
Gift self-love and relaxation with the HER-MINE Birthday Surprise Box, specially curated by women, for women. Order today for a heartwarming and memorable gift!
Outstanding! Beautifully packaged with each item perfectly presented
Absolutely amazing! The box itself is colorful and well designed creating excitement. From the moment you open the box, a beautiful card with care sticker welcomes you to savor the lovely experience. Every item feels intentionally crafted uniquely for you. Carefully placed and packaged perfectly also. I truly felt like the person packing it had the gift of insight into items, smells, and colors I love, and added innovative items I'm excited to try! All high quality products! I would absolutely buy this as a surprise gift for the next special recipient! HER-MINE is a very special company founded in love and it clearly shows in the product and service! Thank you so much! Lydia Ratliffe
Good curated box
The boxes had good curated products- lots of variety of products. I enjoyed the products.
Thank you for your review Rabbia! We're so glad to hear that you had a good experience with our boxes.
Thank you for your review, Sandra. We're so glad to hear that you enjoyed the HER-MINE Birthday Surprise Box!
Love it!
Love everything about this box, the message behind it and all the love that is put into each box. I received a box as a gift and thought it was a great way to try different high quality products from small vendors. I also purchased the birthday box for a friend and she loved it! She loved the packaging and felt that every item in the box was specifically selected for her. This would be a great present for a friend, mother, sister, boss, co-worker or for yourself.
Melanie, thank you so much for your wonderful review. We are so glad you and your friend loved your boxes
Recipient was pleased!
Every time I send a box as a gift the recipient is always surprised and happy. Mission accomplished!
Stephanie, thank you for continuing to trust us to send surprise boxes to your family and friends.